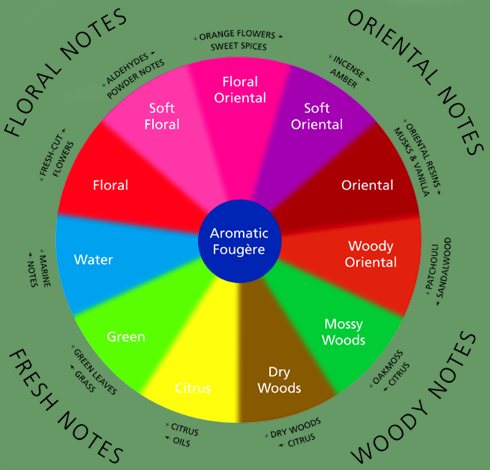 Illatfajták – illathatások, alapanyagok

ALDEHID – sugárzó, értékes, elegáns, nőies
aldehid
C-8 n-oktanál
C-9 n-nonanál
C-10 n-dekanál
C-11 n-undekanál
Legismertebb parfümök: Chanel No.5, Dior Dune, Estée Lauder White Linen, Tommy Hilfiger True Star, Guerlain Chamade, Lanvin Arpege, Agent Provocateur Maitresse, Piguet Baghari, Hermes Caleche, Van Cleef & Arpels Un Air de First, Jean Patou Joy, Byredo Blanche, Cartier Must
BŐR – animális, száraz
nyírfakátrányolaj
spanyolboróka-olaj
iso-butilkinolin
kasztoreum*
Legismertebb parfümök: Demeter Russian leather, Chanel Cuir de Russie, Bvlgari Black, Dior Fahrenheit, Creed Royal English Leather, Guerlain Shalimar, Hermes Kelly Caleche, Montale Black Musk, L'Artisan Dzing!, Parfum d'Empire Cuir Ottoman, Dior Homme, Nasomatto Duro, SoOud Nur, Caron Tabac Blond, Etat Libre d'Orange Charogne, Chanel Allure Pour Homme, Molinard Habanita

CIPRUS – klasszikus, egyedülálló, szertelen, fényűző
tölgyfamoha*
labdanum
bergamottolaj
metilionon
Legismertebb parfümök: Coty Chypre, Miller Harris Terre de Bois, Chanel Cristalle, Chloe L'Eau de Chloe, Clinique Aromatics Elixir, Comme de Garcons 2, Balenciaga Paris, Davidoff Echo Woman, Dior Diorella, Dior Miss Dior, EstéeLauder Knowing, Gres Cabotine, Gucci by Gucci, Hermes 24 Faubourg, Juliette Has a Gun Lady Vengeance, Laura Biagiotti Laura Rose

CITRUS – frissítő, élénk, lendületes
citromolaj
mandarinolaj
narancsolaj
grépfrútolaj
Legismertebb parfümök: Acqua di Parma Colonia,  Atelier Cologne Orange Sangunie, Azzaro Orange Tonic, Burberry Baby Touch, Byredo Palermo, Clean Summer Linen, Creed Virgin Island Water, Demeter Orange Juice, Guerlain Aqua Allegoria Lemon Fresca, Hermes Aroma d'Orange Verte, Jo Loves Pomelo, Lancome O, L'occitane Citrus Verbena Summer, Miller Harris Citron Citron, Rituals No1.

DOHÁNY – férfias, aromás
dohánylevél*
tonkabab*
bodorrózsaolaj
firenzei nőszirom
Legismertebb parfümök: Lolita Lempicka, Dolce & Gabbana The One For Men, Armani Code, Burberry London For Men, Chanel Egoiste, By Kilian Back to Black, Gres Cabochard, Chanel Sycomore, Trussardi Inside for Men, Guerlain Vetiver, Serge Lutens Chergui, Creed Tabarome, Amouage Memoir Man, Annick Goutal Duel, Bvlgari Notte
FÁS, ERDEI – meleg, száraz
szantálfaolaj
cédrusfaolaj
pacsuliolaj
vetiverfűolaj
Legismertebb parfümök: Montale Dark Aoud, Lorenzo Villoresi Vetiver, Issey Miyake L'Eau Issey Pour Homme Intense, Guerlain Vol de Nuit, Givenchy Eau de Vetiver, Etro Vetiver, Etat Libre d'Orange Secretions Magnifiques, Dsquared He Wood Rocky Mountain Wood, Bond No.9 Riverside Drive, Armand Basi Homme, Amouage Sandal

FŰSZERES – aromás, finom, különleges
szerecsendió-olaj
korianderolaj
fahéjolaj
malabár kardamom-olaj
Legismertebb parfümök: Alexander McQueen Kingdom,  Amouage The Library Collection Opus VI., Calvin Klein Obsession, Caron Parfum Sacre, Chanel Coco, Comme des Garcons 8 88, Davidoff Hot Water, Diptyque Eau Duelle, D&G Anthology La Force 11, Estée Lauder Youth Dew, Etro Paisley, Etat Libre d'Orange Archive 69, Kenzo Jungle Tigre, Korres Saffron Amber Agarwood Cardamom, L'Artisan Poivre Piquant, Miller Harris Fleur Oriental, Parfum d'Empire Ambre Russe, Serge Lutens Five O'Clock au Gingembre, YSL Opium

GYÜMÖLCS – eredeti, könnyű, friss
gamma undekalakton
allil capronat
gamma nonalakton
feketeribiszke
Legismertebb parfümök: Anna Sui Secret Wish, Beyonce Heat Rush, Burberry Brit Sheer, Bvlgari Omnia Coral, By Kilian Prelude to Love, Byredo Pulm, Cacharel Amor Amor, Cartier Delices, Clinique Happy, Clive Christian 1872, Demeter Mango, Dior Addict 2, DKNY Be Delicious, Escada Taj Sunset, Estée Lauder Brnze Goddess, Etro Vicolo Fiori, Givenchy Hot Couture edt, Gres Grain de Folie, Guerlain Incolence, Hanae Mori, Hugo Boss Orange, Jacomo Aura, Juliette Has a Gun Miss Charming, Kenzo Le Monde est Beau, L'Artisan Ananas Fizz, Lancome O D'Azur, Lanvin Etat d'Arpege, Paco Rabanne Ultrared

KELETI, ORIENTÁLIS – titokzatos, szenvedélyes, egzotikus, csábító
szegfűszegolaj
benzoégyanta
vanília*
Legismertebb parfümök: Boucheron Jaipur, Bvlgari Omnia, By Kilian Love, Creed Royal Delight, Diptyque Eau Lente, Emeshel Rajul, Malle Musc Ravageur, Histories de Parfums 1826, Il Profumo Ambre dOr, Jacomo Art Collection #2, Jean Desprez Bal a Versailles, Juliette Has a Gun Midnight Oud, Kenzo Amour Le Parfum, Lalique Le Parfum, Molinard Habanita, Montale Aoud Ambre, Penhaligon's Artemisia, Profumum Roma Fiori d'Ambra, Ralph Lauren Big Pony #4, Roberto Cavalli Just Cavalli I Love Her, Roger & Gallet Vanilia, SoOud Nur, Serge Lutens Serge Noir,1000 Flowers Reglisse Noir, Aquolina Chocolovers, Carolina Herrera 212 VIP, Chanel Allure, Chopard Wish, Dior Hypnotic Poison, Gynestet Botrytis, Armani Night

LEVENDULA – serkentő, tiszta, friss
levendulaolaj
lavindinolaj
szagoslevendula-olaj
Legismertebb parfümök: Hugo Boss Hugo, Bvlgari Extreme, Guerlain Heritage, Bond No9. New Haarlem, Sarah Jessica Parker Lovely, Guerlain L`Instant Pour Homme, Czech&Speake Lavender, Annick Goutal Eau de Lavande, Roger & Gallet Lavande Royale, Lavande Molinard, L`Occitane Lavander, Caron Pour Homme, Penhaligon`s Lavandula, Carthusia Numero Uno, Chloe Eau de Fleurs Lavande, Philosophy Pure Grace, Jo Malone Ambre & Lavender, Lorenzo Villorezi Wild Lavander, Yardley English Lavender

FÜVES, GYÓGYNÖVÉNYES – serkentő
rozmaringolaj
bazsalikomolaj
ürömolaj
Legismertebb parfümök: Blood Concept A, Calvin Klein Escape, Demeter Grass, Guerlain Aqua Allegoria Herba Fresca, Hugo Boss Hugo, Marc Jacobs Splash The Basil, YSL Rive Gauche, YSL M7, Davidoff Cool Water, Givenchy Pi, Dior eau Savuage, Guerlain Jicky, Hermes Un Jardin Sur Le Toit, Miller Harris Le Petit Grain, Parfum d'Empire Eau de Glorie
MÓSUSZ, PÉZSMA – titokzatos, erotikus, érzéki
pézsma*
indan pézsma
nitropézsma
Legismertebb parfümök: Narciso Rodrigues for Her, Jovan Musk, The Different Company Pure Virgin, Nasomatto Silver Musk, Costume National Scent Sheer, Clean Leather, The Body Shop White Musk, Serge Lutens Bois et Musc, DelRae Panache, Montale Roses Musk, White Musk és Musk to Musk

PÁFRÁNY – férfias, élénkítő, dinamikus
geránium
levendula
tölgyfamoha*
zsályaolaj
Legismertebb parfümök: Calvin Klein Eternity, Czech & Speake Oxford and Cambrigde, Dolce & Gabbana D&G, Etro New Tradition, Jean Paul Gaultier Fleur du Male, L'Artisan Fou d'Absinthe, Lorenzo Villoresi Uomo, Narciso Rodrigues For Him, Parfum d'Empire Fougere Bengale, Reminiscense Pour Homme, Versace Pour Homme, YSL Kouros,

TŰLEVELŰ – fenyőszerű, balzsamos
törpefenyőolaj
lucfenyőolaj
erdeifenyőtű-olaj
erdeifenyő-olaj
Legismertebb parfümök: Calvin Klein Obsession, Paco Rabanne Paco, Estée Lauder Sensuous Noir, Dsquared She Wood Velvet Forset Wood, Creed Original Vetiver, Ralph Lauren Romance for Men, Amouage Lyric Man, Byredo Gypsy Water, Laura Biagiotti Roma Uomo, Miller Harris Feuilles de Tabac, Etat Libre d'Orange Tom of Finland

VIRÁG – szépítő, romantikus, ártatlan
rózsaolaj
hidroxicitronellál
jázmin*
mimóza*
Legismertebb parfümök: Annick Goutal Rose Absolu, Borsari Violetta di Parma, Burberry London, Bvlgari Jasmin Noir, By Kilian Beyond Love, Byredo La Tulip, Cacharel Anais Anais, Calvin Klein Eternity, Chloe, Dior Poison, Dyptique Do Son, Elizabeth Arden 5th Avenue, Escada Especially Escada, Estée Lauder Beautiful és Beyond Paradise, Fendi Palazzo, Floris Malmaison, Givenchy Amarige, Gucci Flora, Guerlain Idylle, Illuminum White Gardenia Petals, Issey Miyake A Scent, Jean Charles Brosseau Ombre Rose L'Original, Jean Patou Joy, Jean Paul Gaultier Classique, Keiko Mecheri White Petals, Kenzo Flower, Korres Iris Lily of the Valley Cotton, L'Artisan Le Chasse Aux Papillons,  Lalique Tender Kiss, Lancome Miracle, Les Parfums de Rosine Parfums Rose, Lorenzo Villoresi Teint de Neige, Miller Harris Geranium Bourbon, Montale So Flowers, Nasomatto Narcotic Venus, Nina Ricci l'Air du temps, Nicolai Sacrebleu, Robert Piguet Fracas, Roger & Gallet Rose, Stella McCartney Stella, Versace Vanitas

ZÖLD – természetes, pikáns, sportos
galbanum
stirolilacetat
cis-3-hexeno
Legismertebb parfümök: Annick Goutal Eau de Camille, Bond No.9 Central Park, Burberry Touch, Byredo Green, Cartier So Pretty, Chanel No.19, Clean Ultimate, Balenciaga L'Essence, Dior Remember Me, Elizabeth Arden Beauty, Estée Lauder Private Collection, Fendi Fan di Fendi edt, Frederick Malle En Passant, Gucci Envy Me 2, Hermes Hiris, Jacomo Silences, Kenzo Parfum d'Ete, L'Artisan Mimosa Pour Moi, Les Nes The Unicorn Spell, Penhaligon's Bluebell, Sarah Jessica Parker Covet, Smell Bent Little Miss Panda, Tokyo Milk Eden No.3, Viktor & Rolf Eau Mega,
* Az úgynevezett abszolút, vagyis finomított, nemesített változat.
Forrás: Drom Fragrance International